Still on the market to find the perfect gift for this year's festivities? Why not show how very thoughtful you are by giving a five senses gift?
The following list of ideas will give you great gift ideas for each of the five senses, you simply need to pick what your favourite person might like!
Wait, what's a 5 senses gift?
Just to make sure we're all talking about the same thing: a 5 senses gift is exactly what it sounds like. You don't simply get one small item, but five different gifts.
Each gift appeals to one of the five basic senses. One for seeing, hearing, smelling, touching, and tasting each.
Then you collect them into a gift basket or gift bag and give someone a sensory surprise in the best way. If you're doing it well, they'll remember this sweet, thoughtful gesture for a long time!
Jump marks for the impatient:
Disclosure: Some of the links below are so-called provision links, meaning, at no additional cost to you, I can earn a commission if you click through and make a purchase.
Sight gift ideas
We humans are very visual creatures. So we'll start our list of senses gift ideas off with some suggestions for visual sense gifts.
Decoration items
You will know best what kinds of decoration your person might like, but I'll give you some ideas:
Candle holder
Okay, maybe a candle holder is not THE MOST innovative gift ever.
BUT!
It's the perfect combination with one of the smell gift ideas below. And also, if you pick a nice one, like this hurricane candleholder*, it really is a gift for the visual sense!
Sculptures or figurines
Are you someone who thinks these are cheesy? Don't worry, there are so many variations out there!
Of course there are these heart-warming figures* from willow tree. But, if you're looking to build a five senses gift for him, you might rather pick something else.
A big hit every year: the Funko bobbleheads. (You can find LOTS of them here!*)
Plants or flowers, of course!
Now, personally, I have a rather "black thumb". However, most people I know LOVE house plants. And I do have to admit, they definitely are a gift for the eyes!
Photo album
If you have some time on your hands, you could create a nice photo album with pictures of you two. (Although, this might be more of a gift idea for Valentine's Day? Just me?)
Gift card for an art shop
Lastly, if you're not sure you can match their taste for sure when picking something for them, how about giving them a gift card for an art shop? In Europe there is juniqe.com with very affordable wall print options. And, of course, there's always Etsy!
"Visual" activities
Other than decorations, you could also get a gift that you can "go see". The options here are plenty and will, of course, depend a little bit on your person's preferences.
You could get
movie tickets
show or concert tickets
tickets to go see a certain sports match
…
Jewellery
Lastly, we can't talk about gifts for the sense of vision without mentioning jewellery. Of course, you might want to watch your budget a little bit. So if you spring for one of these, you could make them the center of your 5 senses gift. Or pick one of the more affordable options.
Sound gift ideas
Next, let's move on to some sound gifts!
And, as someone who was born with misophonia and has measurably over-sensitive hearing, this is my topic!
In ear devices
If you know anyone with autism, ADHD, or "only" misophonia, chances are you might have experienced them getting extremely stressed due to sound stimuli.
And, let's be honest, our lifestyle and general noise levels make it pretty hard for anyone to not get stressed by sound.
The usual advice is to wear earplugs or headphones, but these in-ear devices* are a MUCH better solution. They do let sound through, so the wearer isn't isolated completely from the environment. But they "smooth" the sound, filtering out any harsh peaks. And let me tell you, the stress reduction effect is insane!
(Probably a great gift for parents, too, right?)
You can get them here!*
Related: 13 super effective stress relief activities (no gadgets)
White noise machine
Another perfect gift for the sense of sound: a white noise machine. Firstly, of course, they can be amazing helpers for a good night's sleep. (And don't we all need better rest?)
Related: Sleep solutions: 8 things that will help you sleep better
Secondly, white noise can really help with productivity when working from home. It covers distractions and helps with focus. So if your person really cares about their productivity working from home, this is yet another reason to consider a white noise machine!
You can order a white noise machine here!*
Bluetooth speaker
Alright, now that we've covered sound covering gifts, how about some that help enjoy sound?
One discovery I made a few years back and they now I want to give to everyone are waterproof bluetooth speakers.
Not only do they enable you to listen to your music in the shower with really nice sound. They also make skipping, forwarding, and changing the volume possible without having to worry about drying your fingers first.
After all, the speakers are waterproof. Super convenient, I'm telling you.
You can buy a waterproof bluetooth speaker here!*
Music subscriptions
A pretty obvious choice for a sound gift: music subscriptions. Now, you want to make sure the person doesn't already have a subscription to the service you're gifting them.
If they already have every streaming service under the sun, maybe a gift card to their favorite music artist's merch shop is an alternative?
DIY sound gift
More interested in DIY gifts? Tickle your person's sense of sound by recording some positive affirmations or loving or motivational messages for them. Then combine it with their favorite songs and voila! You got the perfect sound gift!
Related: The best introvert songs to unite us introverts (but separately!)
Headphones
Headphones are another gift idea for the hearing sense.
Nowadays there is such a wide variety of options. You could pick some cute wireless in-ear buds* or some heavy DJ over ear headphones.*
Just make sure it makes sense for the person you're giving the 5 sense gift to in the end.
Audiobook
Of course, I have to mention one of my favorite auditory gifts: Audible Gift Memberships!*
To me, audiobooks are such a great way to listen to stories or learn something new while your hands are busy with something repetitive. Like decluttering or ironing or working out.
Related: Hate ironing? Here's how to avoid it!
The memberships come in different length options and no matter what kind of books your person likes, they really do have everything over there!
You can check out the Audible gift memberships here!*
Sense of smell gifts
The gift for the smelling sense is the easiest, in my opinion. Who does't like smelling something good? Or smelling good themselves?
Essential oils
Essential oils are super versatile and can be used for LOTS of things. (Even for cleaning, kind of!)
So unless the person you're gifting has severe allergies, they can probably really enjoy some essentials oils!
Essential oil diffuser
Not surprisingly, an essential oil diffuser is next on the list.
Obviously those come in a whole range of prices. However, if you pick a really nice looking one like this ceramic diffuser*, you could make this a smell and sight gift in one. After all, it will make things smell heavenly and look very decorative while doing so!
Scented candle
Remember how we talked about candle holders as a sight gift above? Now comes the combination idea: a scented candle with your person's favourite aroma!
If you pick the super popular Yankee candles, you'll arguably get the candle holder and candle all in one! After all, they come in classic jars and do look decorative as is.
Perfume / After shave
Not super original, yet always welcome: a nice perfume or after shave. Unless your person already found their forever signature scent and won't make any exceptions: who doesn't love a new scent?
Ideally, you give them a voucher and go "smell shopping" together with them. You could combine the gift card with some samples to have something to smell for them immediately!
Bath bombs or salts
Something that can't be missing in any stress relief goodie bag and also is a perfect gift for the sense of smell? Bath bombs, of course!
Of course, you can buy beautiful bath bomb gift sets like this one.* Or make it a DIY gift by using any of these recipes for DIY bath salts!
Related: The best bath additives for any occasion
Sense of taste gift ideas
When it comes to gifts for our taste buds, the options are seemingly overwhelming. Everyone eats and drinks, after all. So it shouldn't be too hard, to find something nice here.
Favorite restaurant
Of course, you could simply invite them to their favourite restaurant. If you go for this option, make sure to decorate the voucher or gift card with a cute little candy or something. This way, they have at least something to taste right away!
Wine tasting
Or, if they're of drinking age and like wine, how about a nice wine tasting?
Coffee cherry tea
If the person you're giving the gift to likes trying new things and doesn't mind a little caffeine, I got a special tip for you: get them some coffee cherry tea!
It's made from the dried skin of coffee cherries. (Normal coffee is made from the bean, so we've ignored the skins for a long time.)
And while it's not everyone's cup of tea (bad pun), it's really interesting to get to know the sweet flavour.
By now, many coffee roasters like this one, sell this tea in addition to their coffees.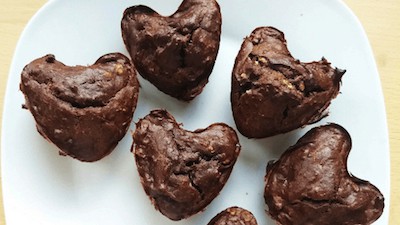 Of course, you could bake something yourself. Aren't the best gifts often handmade?
Especially if you're looking for more romantic gift ideas, some heart-shaped brownies could be just the thing. I have a healthy AND easy brownie recipe here, if you're interested!
Spice kit
A super tasty gift that will keep on giving for quite a while is a nice spice kit. Of course, only give this to someone who likes cooking!
If they are, how about this cute "international" spice set?* Travelling the world one meal at a time!
Hot sauce making kit
Taking it up a notch: instead of spices, how about a DIY hot sauce making kit? This way, the person can decide how to combine the different flavours and grades of spiciness!
You can order the hot sauce making kit here!*
Chocolate & candy
Lastly, of course, we can't forget about the simplest option: some nice sweets!
I've met very few people in my life who don't like some nice chocolate. Or gummy bears, candy, sweet stuff! So if you want to go for a safe and super affordable option, simply pick some nice sweets.
List of ideas for your touch gift
Almost done with our 5 senses gift! Now we only need to find something for the sense of touch!
Fuzzy blanket
The first thing that comes to mind is a nice, fuzzy blanket. It's winter, it's cold, and it's just the best thing to be wrapped in a nice, cozy blanket!
Who DOESN'T like those?!
Bathrobe
Alternatively, you could find a nice, cozy bathrobe. After all, what's a bathrobe other than a blanket to wear around the house?
Massage
Another perfect gift for the touch sense is a massage. You could make the voucher out to be from yourself or pick a nice wellness salon and get a gift card!
(Okay, maybe voucher's aren't THE most thoughtful gifts ever, but they WORK!)
Head massager
Some people aren't big fans of being massaged by others. For those, a head massager could be a really nice touch gift!
They have a super relaxing effect, and you don't need anyone else to administer the massage. Oh, and they're really affordable, too.
You can get a head massager here!*
Massage gun
Another "self-massage" tool, albeit significantly pricier is a massage gun. This is a great gift for people who are into sports, heavy lifting, et cetera.
So if you have an athlete in your life and you want to really go for it, this might be an option!
Dry brush
Okay, let's get back to rather affordable gift ideas again: a dry brush!
A dry brush doesn't only help with getting really soft skin, it can even support your lymphatic system! So for any health-conscious person, this could be a really nice touch gift.
Did this list of 5 senses Christmas gift ideas help?
I hope you could collect some inspiration for your 5 senses Christmas gift, and have a better idea now of what to give.
If it was helpful, I always appreciate any shares. Thank you, and have a great festive season!
*These links are so-called provision links, meaning, at no additional cost to you, I can earn a commission if you click through and make a purchase.