Oiling your hair is one of the best things you can do for soft and shiny locks. And one of my favorite oils to use is argan oil. But how do you recognize the best argan oil for hair? After all, there are countless argan oil products out there by now!
I know it can be hard to take a good buying decision. This is why I did some research for you. Let's dive into how to recognize a good argan oil hair product and how to use them!
Related: 7 curly girl approved hair oils for shiny locks
Disclosure: Some of the links below are so-called provision links, meaning, at no additional cost to you, I can earn a commission if you click through and make a purchase.
What is argan oil
First, a little bit of background on argan oil in general.
The oil is made from the nut of the argan tree. Those trees are native to Morocco. This is also why the oil will oftentimes be sold as Moroccan argan oil*
.
While traditionally Moroccans used the oil mainly for culinary purposes, it has also gained huge popularity in cosmetics.
Argan oil for hair benefits
Eating argan oil is beneficial for your cardiovascular system and helps prevent cancer.
But also topically, there are quite a few benefits to the miracle oil!
Moisturizing: Argan oil moisturizes your hair and protects it from damage.
Decreases sebum production: Sebum is what our scalp produces to naturally "oil" our hair. This can get a little too much though… So if you tend to have a very oily scalp, argan oil can help. Massaging it into your skin twice daily for 4 weeks has an anti-sebum effect.
Decreases damage: Argan oil can even decrease the damage from coloring your hair!
No overdoses: There are currently no known acute or chronic toxicity levels or side-effects.
Related: How to get rid of frizz – the ultimate guide
5 tips to find the best argan oil for hair
So what are the things to look out for if you want to find the best possible argan oil for your hair? I got you covered! Use these 10 tips as a checklist, when comparing options!
1. Make sure to get 100% pure argan oil
The best way to make sure you are really doing something good for your hair is to buy 100% pure, organic argan oil. Many products will be (literally) watered down. Or they might contain preservatives and other chemicals.
Don't fall for that. You won't need it and your hair doesn't either. The so-called "INCI" name on the packaging should read "Argania Spinosa (Argan) kernel oil". That's it. Nothing else.
2. Not roasted and cold-pressed argan oil
For hair purposes, your argan oil should be cold-pressed and not roasted. The roasted version is the food-grade variant, while the cold-pressed one still contains all the beneficial ingredients.
3. Honey-colored argan oil
If the oil is pure and unroasted, it should have a honey-like color. Think golden, but lighter than the golden-brown of the roasted version.
4. Nutty scent without goat aroma
When argan oil had its big boom, many people complained about a strong "stable smell", after opening their first bottles. If this happens to you, send the product right back!
A good quality argan oil has a very light nutty scent that disappears quickly.
5. Fair-trade and certified manufacturer
You want to make sure that your argan oil is ethically sourced and comes from a certified manufacturer. This makes sure of two things:
You can trust in the quality of the product. Producing argan oil is a complex process and certified manufacturers know what they are doing.
You support the local economy in Morocco. Most of the argan oil production there is done by women cooperatives. They enable women to earn an income, become more autonomous, and provide education for their children.
Remember to pin this for later!
How to use argan oil for hair
Alright, now that we know how to pick the best argan oil for our beloved locks, let's look at a few ways on how to use it.
Deep conditioning treatment with argan oil
The easiest way to treat your hair with argan oil is to do a deep conditioning treatment. Start by massaging the oil gently into your scalp. Then work your way down all the way to your tips. Make sure you really cover all of your hair in oil!
Then wrap an old t-shirt or microfiber towel around your head to keep it warm and prevent the oil from dripping. Be aware that oil is really hard to get out of fabric. So please don't use your favorite towel for this! Ideally, you have a dedicated "oil" towel.
Let the oil soak in for at least 30 minutes. Or simply sleep on it, but then also protect your pillowcase!
And then simply wash it out. You can do this treatment before every hair wash. But as argan oil is quite expensive, you might want to limit this to once or twice a month.
Argan oil hair mask DIY
If you feel like mixing up your own DIY argan oil hair mask, I recommend my favorite hair mask recipe of all times! Simply add in as much argan oil as you like and enjoy the results!
Argan oil for the LOC method
Another way to make good use of your newly bought argan oil is the LOC method. LOC stands for "Liquid-Oil-Cream" and you can use argan oil as the step in the middle.
In case you are not familiar with the LOC method, you can find out more here.
How to use argan oil for curly hair
Curly hair is naturally dry. So use your argan oil as a leave-in and as a defining and moisturizing oil. But keep it away from your scalp. Curlies usually produce very little sebum naturally. As we learned above, argan oil can have an "anti-sebum-effect" on your skin. And as a curly, you don't want that effect!
Related: 10 ways to stop your hair from getting oily so quickly
Where to buy argan oil for hair
As argan oil has become a mainstream product, there are many places where you can buy it.
Buying argan oil in a store near you
Chances are you can check out any shop near you that sells cosmetic oils and you will find argan oil there.
Supermarkets also have argan oil in their shelves, but those will be the food-grade kind. And remember point 2 on our checklist? We want the cosmetic version, not the roasted one.
Buying argan oil for hair online
The easiest way to get some argan oil will be ordering online. First of all, you can easily filter and compare, to make sure you really get what you want. Second of all, you don't need to physically run from store to store to find out if they even have it.
Top 5 argan oil brands on Amazon by reviews
I promised to take some off the research work off your shoulders. So to make it easier for you, I found the top 5 argan oil brands on Amazon, ordered by average customer review. They all are 100% pure and organic argan oil.
Almost 1500 reviews by the time I am compiling this list and 84% of them give 5 stars to this product. This makes it the winner in this list of the best argan oil for hair. And it also means it managed to snap the title "Amazon's choice".
Olie Biologique focuses on being cruelty-free and vegan and even got certified by PETA. While they only got 27 customers reviews so far, a whopping 96% of those are 5 stars!
If the cute name "Teddie organics" hasn't convinced you, the shining reviews for this product will. From 484 reviews by the time of this writing, 85% are the best possible rating!
Leven rose doesn't only get raving customer reviews
(84% out of 233 reviews give 5 stars!). They also show customers various tips on how to use argan oil for beauty in their product description. Including DIY beauty recipes!

Last, but not least we have the argan oil from Essential Oil Labs. 83% out of 166 reviews give them 5 stars for their product, landing them in the 5th spot of our ranking.
Summarizing what we learned about the best argan oil for hair
Alright, now you have a pretty good idea how to pick the best argan oil and where to find it. Let's summarize:
Use the checklist to pick your oil
It is easiest to buy your oil online
To make it easy on yourself, follow reviews
I love hearing your opinions in the comments. And make sure to pin this for later!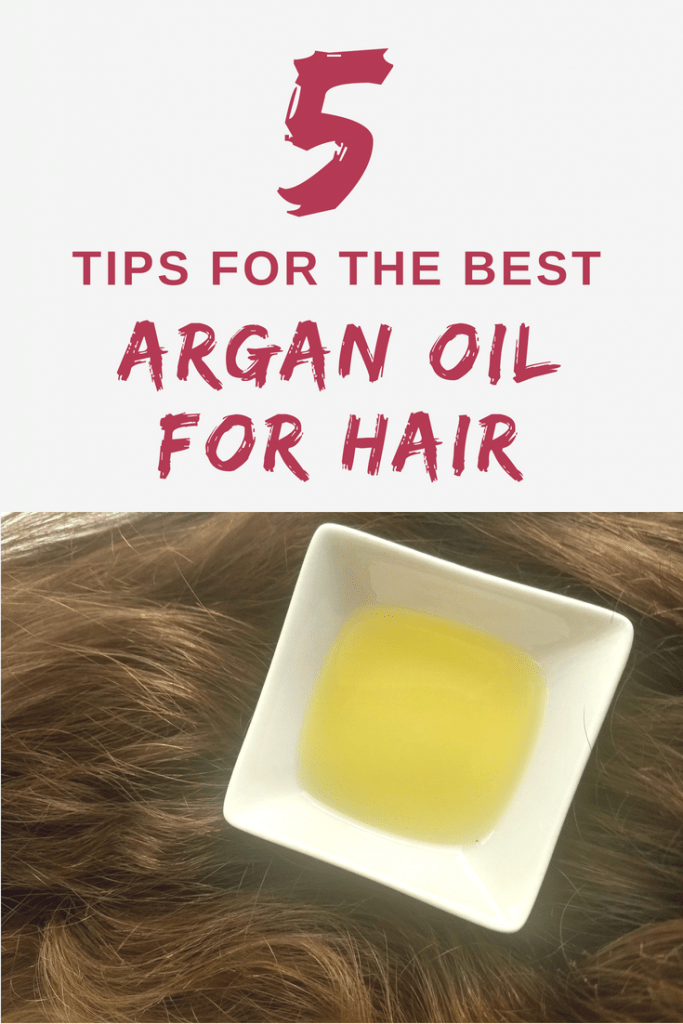 *These links are so-called provision links, meaning, at no additional cost to you, I can earn a commission if you click through and make a purchase.