Hair cream, let alone homemade hair cream, is not something many people use regularly. I say, maybe you should.
Do the tips of your hair stay dry when the roots already start being a little oily? Have you tried balancing shampoos? Still no success? Don't worry. Today I will show you a recipe for a homemade hair cream which will help with this.
As usual with my homemade beauty tips this recipe doesn't need a huge amount of ingredients. And it can easily be customized to whatever your hair and your nose like best! So without further ado let's jump right into what you will need for your homemade hair cream.
Disclosure: Some of the links below are so-called provision links, meaning, at no additional cost to you, I can earn a commission if you click through and make a purchase.
Ingredients for the homemade hair cream
The great thing about this recipe is that you can make this recipe with as little as two ingredients! Obviously it is way more fun to mix and match and tweak.
Still, if you are going minimalist or just don't feel like playing around too much, you only really need the following two ingredients for making hair cream:
pure organic Shea butter (like this one*)
an oil of your choice
You will need the same amount of each ingredient. So for the basic hair cream recipe you would use 50% of shea butter and 50% of oil.
For choosing the oil consider that the cream will stay in your hair as a leave-in after washing. So you want to use a nice smelling or neutral oil. Personally, I love avocado oil* for its nourishing effect on my hair. But I wouldn't want to walk around smelling like it all day… So I would choose another oil from my list of favorite hair care oils.
A good example for a neutral oil I like to use is almond oil. And if I want to smell like a cookie, I use the Monoi Tiare Tahiti vanilla* flavored coconut oil. (Seriously, that one smells sooo good!)
So when it comes to the oil, you can really play around with what you like. You can also mix different oils. Or put in a few drops of essential oil to perfume your homemade hair cream. Just make sure you get to the 50% shea butter, 50% oil proportion in the end.
Related: Coconut oil for hair: the real benefits
How to make the homemade hair cream
Alright, now it's time to get into it: how to make hair cream!
First, you need to melt your shea butter. This step can vary in length a little bit, depending on which type of shea butter you have. Make sure to not heat it up too much! Only use low heat.
Once you have a liquid, you can add your oil. And then you start mixing it all together. Just treat it like whipping cream.
Depending on the amount of cream you are making, you might want to take out the mixer. Or, if you just have a small amount, you can simply use a fork and build some muscle!
Now all you have left to do is waiting for your concoction to cool and to stir it every now and then. This will prevent the shea butter and oil from separating again.
How to use the homemade hair cream
As I mentioned above, you want to use the cream as a leave-in. Ideally, you apply it to the tips of your hair after washing, when your hair is still wet. Or, if you use the LOC method or Liquid-Oil-Cream method, you apply it directly after the oil portion. There is no need to wash it out, as it will be absorbed by your hair.
One word of warning though: This homemade hair cream consists of FAT! It will do wonders for your dry tips, but that is also where it should stay! Do not put it on your scalp and length, it will most likely be too much!
Related: 10 ways to stop your hair from getting oily so fast
If you have a hair type that does need that amount of extra care, increase the amount you use after every wash. This way you can work your way up and find out how far you can go.
As always, do let me know how you liked this recipe and what you did with it! And if you want to save it for later, find a prepared pin below. Happy mixing!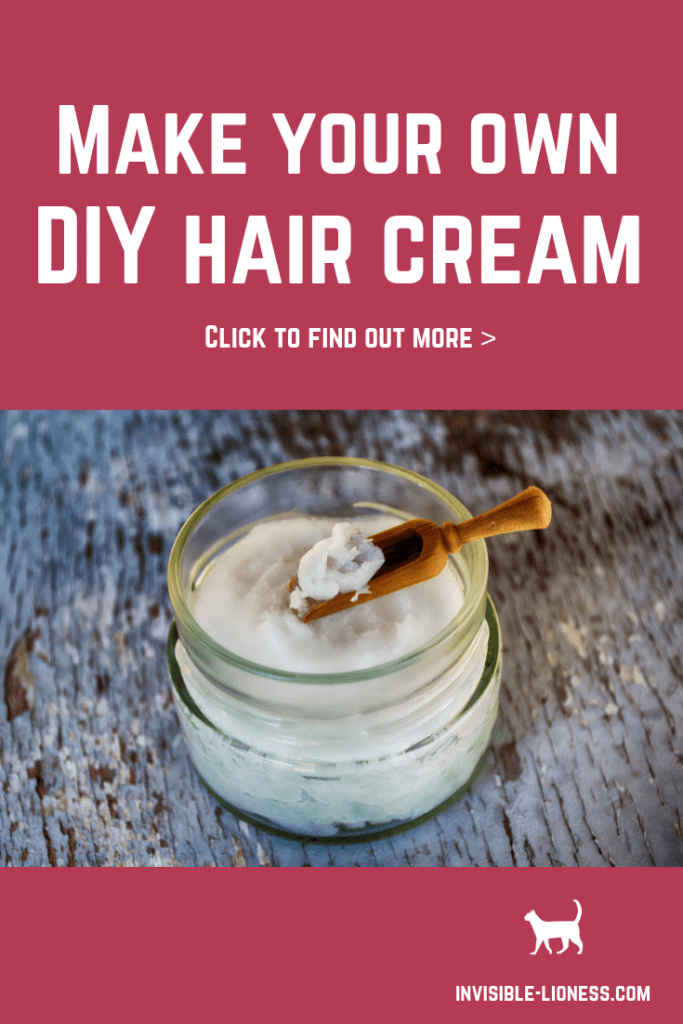 *These links are so-called provision links, meaning, at no additional cost to you, I can earn a commission if you click through and make a purchase.